AntiVir Personal
is now


Avira Free Antivirus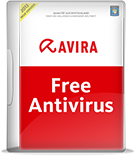 Fast virus scanning powered by the AntiVir engine
Avira AntiVir detection technology is the reason millions of people worldwide trust Avira to guard their PCs. Over the years, many of these satisfied users started with AntiVir Personal and later upgraded to AntiVir Premium (now Antivirus Premium) as they became more active online.
Looking to download AntiVir Personal?
Try the new and improved version of AntiVir Personal, now called Avira Free Antivirus.